This Tiny But Simple Bag...
Protects You From The #1 Killer In A Crisis

How do you think you'd die if you were caught in a crisis?
In a gunfight after the Russian invasion?

Or by being attacked by the undead in a zombie apocalypse?

While there are lots of different ways to perish in an emergency…

Research shows you're not going to go out in the kind of Hollywood fantasy you'd typically imagine…

Unfortunately, you'll probably die in a much more common and heartbreaking fashion.

And your loved ones will take this especially hard…

Since this tiny but simple bag could have helped prevent your tragic death.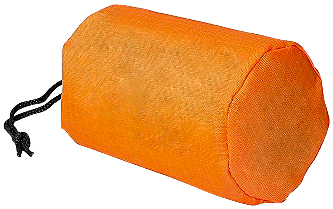 This #1 Killer Isn't What You Think…
And This Bag Will Help You Survive It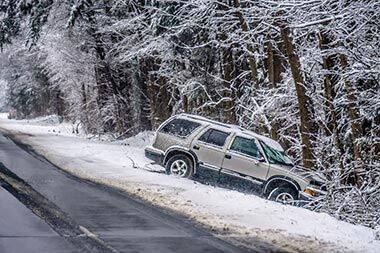 The #1 killer in a crisis isn't the crazy doomsday scenario you'd likely think of when imagining a survival situation.

It isn't the harsh reality of running out of food or water, either.

Nope.

While it may seem hard to believe…



Statistically the #1 thing that'll kill you… whether you're caught in an Armageddon-type scenario or you're in a bad car accident… is exposure to the elements.

Exposure is your #1 enemy in an emergency situation.

In fact, it's so deadly research done by both FEMA and the CDC indicates that exposure to the elements is one of the leading causes of accidental deaths in the nation.

Every year more than 5,000 Americans die of exposure.

That was true last year, and it'll be true again this year, and the next.

And while it may seem hard to believe, the number of people who die from exposure is higher than the number of casualties from dehydration, starvation and trauma combined!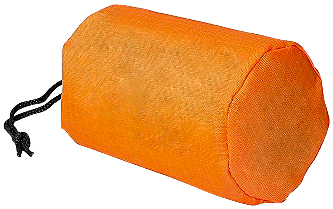 The fact is, if SHTF and civilization is crumbling, the number of people who'll die from exposure will skyrocket.

Which is why you need a way to protect yourself from it.

That's why you need to see how this little bag offers you the ultimate protection against this #1 killer.


Here's Why Exposure To the Elements
Is So Incredibly Deadly
Exposure to the elements is deadly for one simple reason…

Once the temperature outside falls past a certain point, the human body can't regulate its internal temperature well enough to stay warm.

The longer your body is exposed to the cold…

And the colder the outside temperature gets…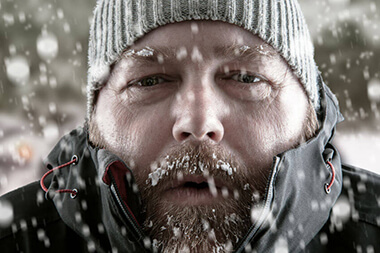 The faster your core body temperature drops… and the higher your chances become of facing certain death.

Add wet clothes or high winds to that mix and you've got a recipe for guaranteed death.

That is, unless you've got this little bag with you.


NASA Uses The Material In This Bag
To Keep Astronauts Warm
There's a very simple and effective way to prevent exposure from killing you in a crisis…

The solution?

A very specific lightweight and durable material that keeps warm air close to the surface of your skin.

As long as the heat leaving your body stays close to the skin (and doesn't escape into the atmosphere around you) you'll remain safe and warm for a long, long time.

One of the best materials you can use to stay warm and protected is called polyethylene.

The main reason polyethylene is so effective is that its shiny metallic surface acts as a heat mirror, reflecting 90% of your body heat back to you.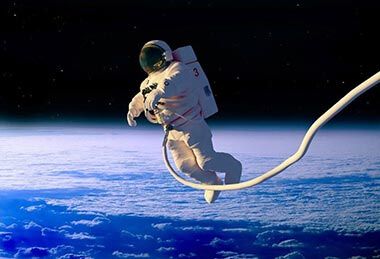 In fact, polyethylene is so good at keeping you warm and toasty, NASA stockpiles it in their rocket ships to help protect astronauts from the bitter cold of space.

Of course, NASA doesn't just rely on polyethylene because it's great at keeping astronauts warm…


They also depend on it because this material is extremely lightweight, tear-resistant, 100% windproof and waterproof and incredibly easy to store.


This miraculous material ensures astronauts stay toasty warm from the bitter cold. And it can easily save your life, too.

In an exposure situation all you have to do is wrap your body in a single layer of polyethylene. This way, your trapped body heat will save you from otherwise certain death.

And, as you may have guessed, this teeny-tiny Emergency Sleeping Bag is made out of 100% polyethylene.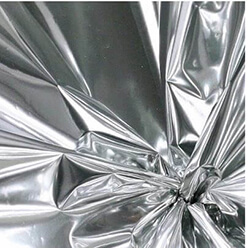 This ensures this survival tool will trap your body heat around you while keeping the freezing wind and water out.

Knowing this, it's easy to understand that every single American who wants to stay protected from exposure should have at least one of these Emergency Sleeping Bags with them at all times.


Here's What Makes The Emergency Sleeping Bag
An Absolute Essential
There's no two ways about it…

Because exposure to the elements is one of the nation's leading causes of accidental death you MUST have an Emergency Sleeping Bag..

Without it your survival kit is incomplete.

However, the Emergency Sleeping Bag isn't just an ordinary sleeping bag. It's also…


100x lighter than a regular sleeping bag: Unlike typical sleeping bags which tip the scale at several pounds, the Emergency Sleeping Bag is just 4.7 oz in weight.

Meaning it weighs less than a zippo lighter.

This ensures you can truly carry this bag with you wherever you go.


Smaller than a soda can: Not only is the Emergency Sleeping Bag incredibly lightweight, it's also insanely compact.

In fact, it's smaller than a soda can.

This means you can easily store it anywhere (go-bag, glove compartment, kitchen drawer, etc). so it's ready when you need it.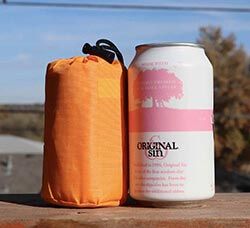 Expands to fit anyone: Even though this bag folds up smaller than a soda can, it unfolds to an incredible 7 feet long x 3 ft wide. This ensures the Emergency Sleeping Bag is large enough to fit just about anyone.

To use, simply remove the bag from the included stuff sack. Unfold it, and open it like a pillowcase. Slide inside, and you'll be safe from the elements!


Emergency Sleeping Bags Aren't Just Great
In Theory… They're Proven To Save Lives
Hundreds of Americans have already protected themselves from dangerous weather by using the Emergency Sleeping Bag.


One of the most dramatic stories to date is how a woman saved her life by using the very bag you see here.

While on a camping trip with her friends, a 44-year-old woman sustained a severe injury and broke her leg.

When it happened, the weather outside was bad and about to get worse.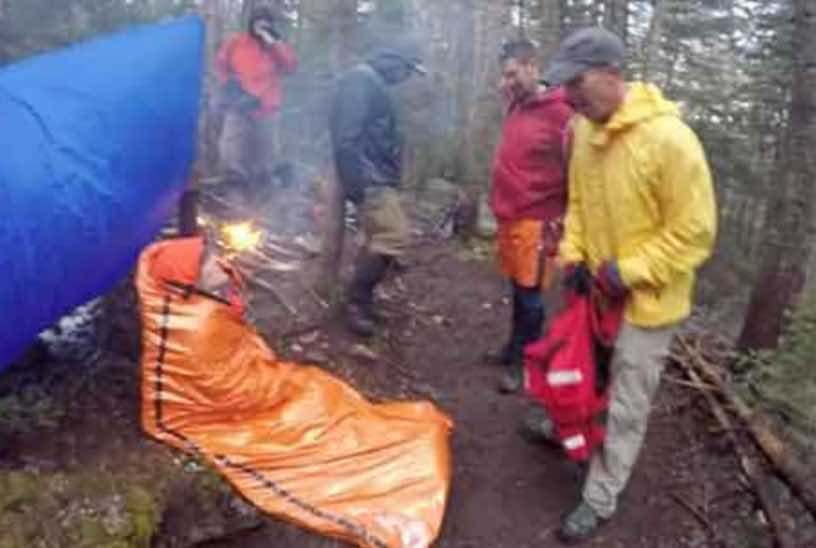 And within a few moments of breaking her leg, shock had set in and her body temperature was plunging rapidly.

With these factors combined, this woman was in extreme danger of hypothermia.

Her friends scrambled to get her to safety, knowing it wouldn't take long until the situation turned deadly.

Combing through all their supplies, they realized they had an Emergency Sleeping Bag with them. They quickly slid the bag around the woman's body and got her to a safe place while one of them went for help.

Thanks to her friends' quick thinking (and the fact they had an Emergency Sleeping Bag with them) this woman survived a situation that could have easily become fatal.

Without the Emergency Sleeping Bag things could have been much, much worse.

It's stories like this that make it easy to see why owning this bag isn't just smart - it's imperative to your survival.


10-20-2020 - Internet Only Special
Emergency Sleeping Bags For Ultra-Low Price
Now that you know how the Emergency Sleeping Bag will save your life in a crisis, it's time to show you how you can get it for an insanely low price.

Today we'd like to offer you this incredible sleeping bag for an exceptionally great deal. And it's all thanks to our limited-time Internet Only Special.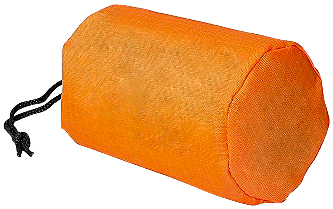 The retail price of this Emergency Sleeping Bag is normally $30.00.

But today you can get it for just $19.97 - a full 33% Off the retail price.


The Awesome Reason You'll Get The
Emergency Sleeping Bag For 33% Off Today
We're Patriot Wholesale Club - a leading supplier of elite survival gear at discount prices.

Our offer to give you the Emergency Sleeping Bag for 33% Off is part of an invitation to join our FREE Wholesale Club membership.

When you join our club you'll have unlimited access to name-brand gear for 50 - 75% Off.

We've got access to name-brand survival gear – and we'll sell it to you before the fancy label gets slapped on it.

Because of this, most of the time you'll be getting that gear 50 - 75% Off.

As such, we can afford to give you the Emergency Sleeping Bag for just $19.97 today - a whopping 33% Off the normal retail price!


Not only is this Internet Only Special part of an invitation to join our Free Wholesale Club…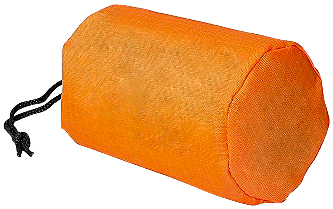 It's also a preview of the kinds of deals you'll receive from us in the future.

And while deals like this are always available to members of our Free club…


You have to hurry and snag yours today.

We only have one container of these Emergency Sleeping Bags left. And when we sell out there's no telling exactly when they'll be back in stock.

To get your Emergency Sleeping Bag for just $19.97 click the Big Green Button Below.

Don't wait.

This bag is one of our most popular survival tools. And once they sell out we don't know when they'll be back in stock!


On the Fence? Here's Our
Rock-Solid Money-Back Guarantee
We want you to be 100% satisfied with your purchase of the Emergency Sleeping Bag today.

We also want you to enjoy the heck out of the incredible deal you're getting… as well as every deal you get when you purchase something from us.

That's why we're giving you our rock-solid unconditional money-back guarantee.

If for any reason you're not happy with your purchase, we offer a 90-day guarantee on our products.


We hate the idea of having an unhappy customer…

And we're honest and hardworking just like you - so we're not going to sit idly by and let you be ticked if you bought something from us that didn't live up to your expectations.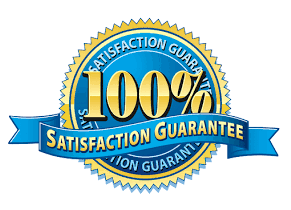 So if you're not satisfied with even the smallest aspect of your order, call us up to get ALL your money back.

That's a real American guarantee - and one we're proud to stand behind.

We won't take a lick of your hard-earned cash if you're not beyond thrilled with your purchase today.

We hope that sounds fair.

Don't wait!

Click the Big Green Button Below To Get Your Emergency Sleeping Bag Today.

Remember, this Internet Only Special won't last much longer - and this deal could be gone by the time you come back to this page.

Get your Emergency Sleeping Bag now before it's too late!